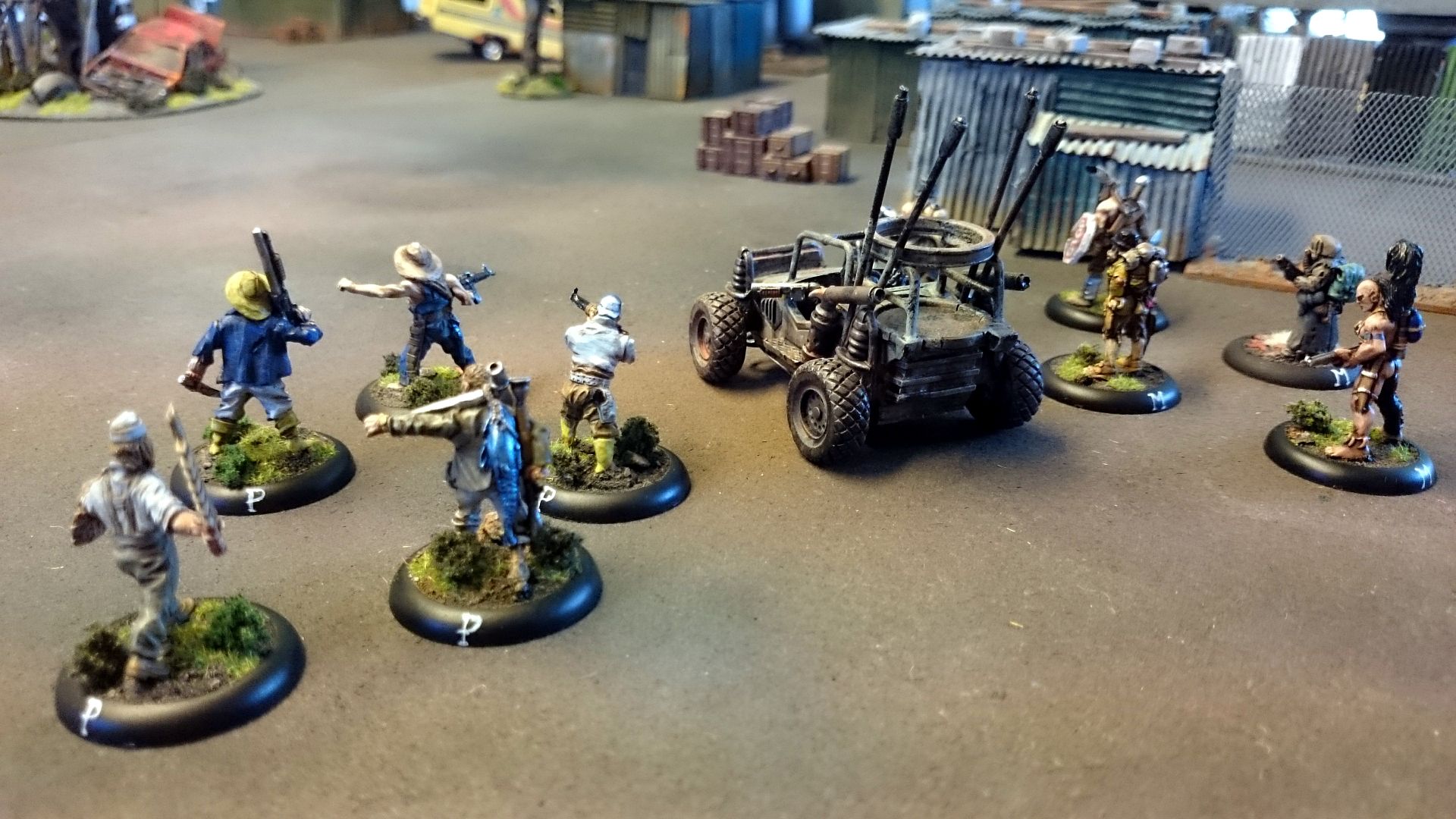 My buddy Thomas is writing a tabletop skirmish game for the RPG "Mutant: År Noll/ Year Zero" game to better simulate combat situations. The game is set in a post apocalypse world where most technology has been lost, imagine a more primitive version of Fallout and Mad Max. Most weapons are one-shot only and have to be reloaded before they can be used again. People live in isolated communities known as the ark and only venture out in the wasteland to scavenge stuff and food when needed.
The rules are fairly simple but he has managed to cram the best parts of games like Muskets & Tomahawks, Song of Blade and Heroes and other games we both like into his own creation.
We tried out the rules last weekend and I found them to work smoothly and thought they offered a both fast paced and very well balanced gameplay.
A card and action point based activation system is used just like in Muskets and Tomahawks, meaning that each faction has a number of cards with a total of 4 action points in the activation deck. Whenever a faction card is flipped over all troops belonging to that particular faction get to perform said number of actions. Actions range from moving, shooting, fighting in close combat, climbing obstacles, looting corpses, reloading weapons etc.
Movement per action is defined by the movement quality of a faction/unit type. For instance, the "Motor People" have very poor movement when on foot since they are lazy and love riding vehicles.
Movement is divided into 3 fixed range bands which are measured using 3 different sticks. 
The activation deck also includes cards that say "Something happens" which means rolling on the random encounter chart. This results in the appearance of NPC factions/monsters or random events that can help or hinder the action for the players. The deck then also includes cards marked as "The Zone" which activates all neutral units on the table such as Zone-Bies, neutral gangs etc.