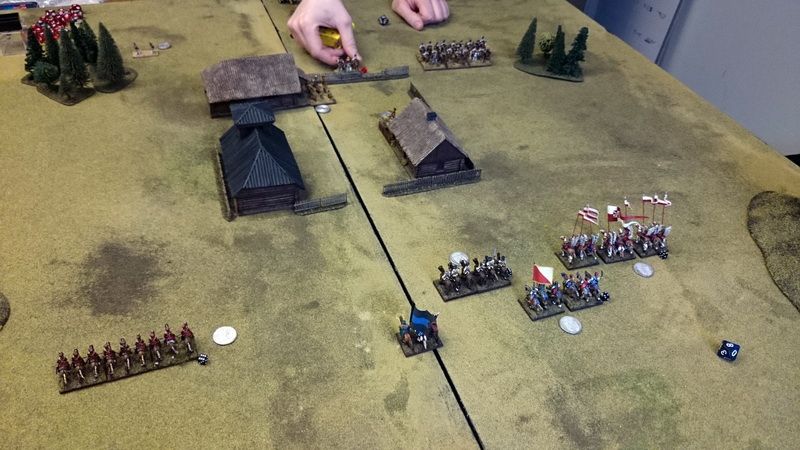 This weekend Andreas and I tried out our intended armies for the Polish championship, I ran the Gosiewski foray with Lithuanian Winged Hussars while Andreas ran Courland with some new additions that were WIP. We played two games, both were the dreaded "attack on the village" scenario which I suspect will be the toughest on my army due to the low amount of infantry troops.
In our first game I ran a tiny 8FSP list with the bare bones, meaning: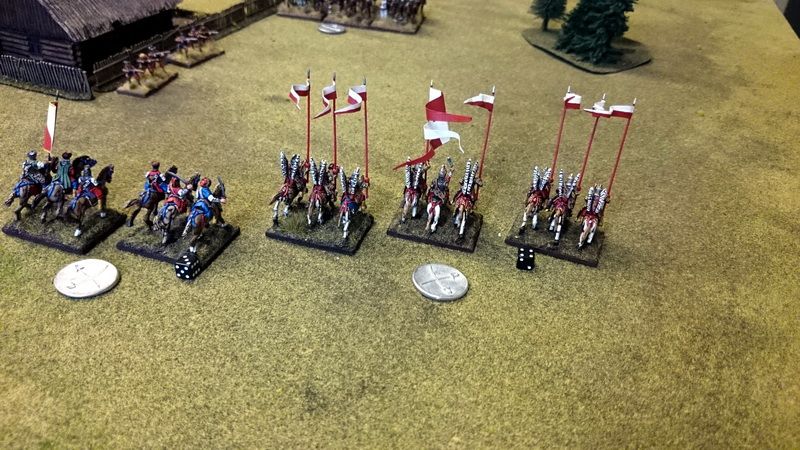 Commander Vincenty Gosiewski
3 Winged hussar bases
2 bases of cossack style cavalry
2 bases of Reiters
3 bases of Dragoons
Andreas ran a small Courland list at 5FSP, can't remember the exact list but he had bases of the militia Lehnsfahne cavalry, two bases of mercenary reiters that were ordered to make a flanking maneuver and arrive on turn two the earliest, and the rest of the force was infantry.  Two infantry units started in the village. The  additional effect suffered by the Lithuanians was "Panic", which we totally forgot about it could have proven been vital.
The Lithuanian force deployed dragoons on the far left flank, reiters at the center and Winged hussars and cossack style cavalry on the right. Command and control proved difficult with only one commander and such a stretched battle line but both the dragoons and the Reiters managed well enough on their own using only the "Move" order, firing during the "shooting after movement" step at the end of each turn.